Press Release: Olofsfors owner invests in new industrial premises
3 novembre 2021
Olofsfors owner invests in new industrial premises
"We have created the conditions for further development and expansion of our products within the group", says Anders Wikström, owner of Olofsfors AB and CEO of P. Wikström J:r AB.
P. Wikström J:r AB, PWAB, is the parent company behind Olofsfors AB, which manufactures tracks for wheeled forest machines and wear steel for construction machinery, as well as Iggesund Forest AB, which manufactures saw bars for forestry machinery. Both companies are at the forefront as leading manufacturers and will jointly use the new premises that are 5400 square meters large and sold by Nordmaling Municipality.

Located in Nordmaling, this facility is for the production of a new type of saw bars, that during this year was tested by Iggesund Forest with good results. The property is located close in proximity to Olofsfors AB's current production facility.

– "Iggesund Forest probably has the world's best saw bars today. The new blade will be produced in the new premises without disrupting Iggesund's current production, where we currently have a lack of capacity. The new saw bar, with new material can be hardened in water instead of in oil and it has been tested in Olofsfors existing production facility during the year", says Göran Nyberg, CEO of Iggesund Forest and vice president of PWAB.

For Olofsfors, it is not just about being able to use the new industrial premises as a warehouse, but in the long term also for our own production of tools and new products.
– "We believe that this is absolutely necessary to increase Iggesund Forest's total sales of sawbars to customers around the world," says Göran Nyberg.


For questions or more information, please contact:
Göran Nyberg
CEO at Iggesund Forest, Vice president at P. Wikström J:r AB
Phone: +46(0)70-648 66 10
E-mail: goran.nyberg@olofsfors.se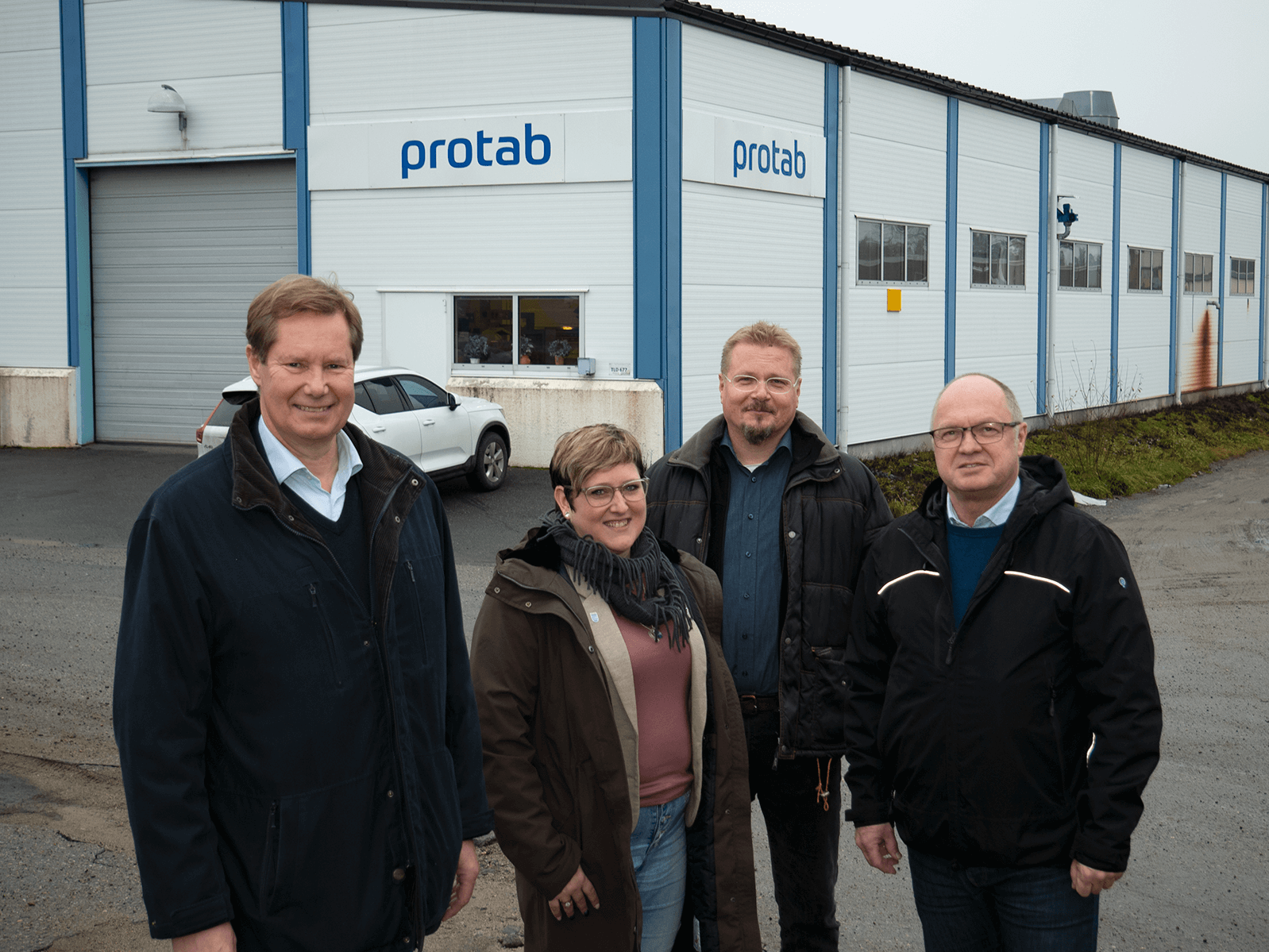 From the left:
Anders Wikström, owner of Olofsfors and CEO of P. Wikström J:r AB,
Madelaine Jakobsson, chairman of Nordmaling Municipality,
Conny Nordendahl, business developer at Nordmaling Municipality and
Göran Nyberg, CEO of Iggesund Forest and vice presedent of P. Wikström J:r AB.
The group P. Wikström J:r AB has approximately 320 employees and a turnover of approximately SEK 800 million. In addition to Olofsfors and its subsidiaries, the group also includes Iggesund Forest AB, Alab Aluman AB and Grader Service OÜ. Olofsfors has three sales companies in Finland, one in Germany, Russia and Canada. Olofsfors core values are: knowledge, quality and sustainability

Olofsfors AB - Siège
Téléphone: +46 (0) 930-311 40
Email: info@olofsfors.se
Adresse: Olofsfors AB - Siège
Olofsfors 11
SE-914 91 Nordmaling, SE
Carte
Vous souhaitez contacter quelqu'un ?