Press release: 400 frying pans for Ukraine
5 avril 2023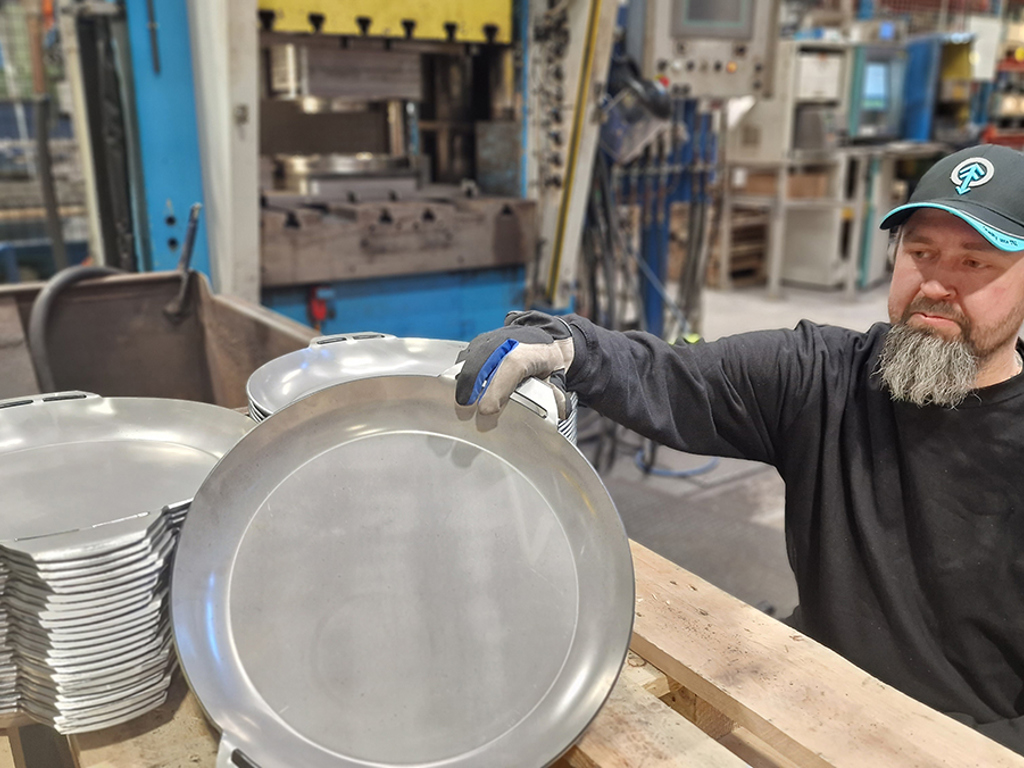 400 frying pans being produced for Ukraine civil population
The Ukraine frying pan is an initiative by the coworkers at Olofsfors AB with a will to contribute to something for the people living in the war zone in Ukraine. The inspiration comes from the production of wood stoves started by several companies in Sweden. "Our target is to have the 400 frying pans sent to Ukraine just after Easter", says Tomas Strömberg, Production Director at Olofsfors AB.
When the initiatives surfaced in media regarding the production of wood stoves for Ukraine, the Olofsfors coworkers started discussing the possibility of doing something for the war-struck civilian population in Ukraine. To do something to improve an already tough situation made even worse by winter cold and shortages in power supply. What could Olofsfors contribute, as a complement to the wood stoves, and what would suit Olofsfors' production?
The frying pan background
It was the Production Director who forwarded the coworkers idea at a management meeting on Friday back in December. Being able to use Olofsfors knowledge of steel to design a frying pan for indoor and outdoor use, either on a wood stove/indoors, or over open fire. An initiative which the CEO of Olofsfors, Mr. Urban Hadarsson, approved.

"Already the following Monday one of our product developers had the prototype drawings made for what was later known internally as the "Ukraine frying pan". Sheets of steel were purchased, the drawings were finalized, and the pressing tools were produced", says Hadarsson.

Weld nuts are used for the detachable legs and the pans are packed in a carrying bag.
"The frying pan is designed for multiple heat sources. Like a Muurikka-pan with legs, for usage over open fire, or without legs as a traditional frying pan, maybe even heated by a Swedish-made wood stove produced for the Ukrainian population", explains Fredrik Haldammen, Director R&D at Olofsfors.
Olofsfors donated the cost for the raw material, pressing tools and work/machinery costs. The coworkers' volunteered off-work hours to package the pans for transport to Ukraine.

Olofsfors plans to use the Filippus foundation for transporting the pans. Filippus is a volunteer foundation founded in 1993. Filippus is supported by various organisations, companies, unions, parishes and private persons. Its funding relies completely on donations.

Additionally, Olofsfors will also produce just over 100 pans which the employees will have a chance to purchase. All revenue from these sales will be donated to Filippus and the target is to surpass 50.000SEK in donations.

"Our coworkers' wishes to contribute, had been the driving factor for the whole project. To aid with what you can feels obvious", ends Urban Hadarsson.



For more information, please contact:

Urban Hadarsson
CEO
Phone: +46 (0)70-345 32 15
E-post: urban.hadarsson@olofsfors.se
Fredrik Haldammen
Director R&D
Phone: +46 (0)70-584 12 83
E-post: fredrik.haldammen@olofsfors.se

Olofsfors AB has 150 employees and the company works with production and sales of 2 main business areas: Tracks and chains for terrain going, rubber wheel machines as well as wear steel for construction machines. Olofsfors has customers in almost all parts of the world. The main office is situated in Olofsfors, northern Sweden, where the main manufacturing plant is located. Olofsfors has a turnover of about 500 MSEK.
Olofsfors key values are Knowledge, Quality and Sustainability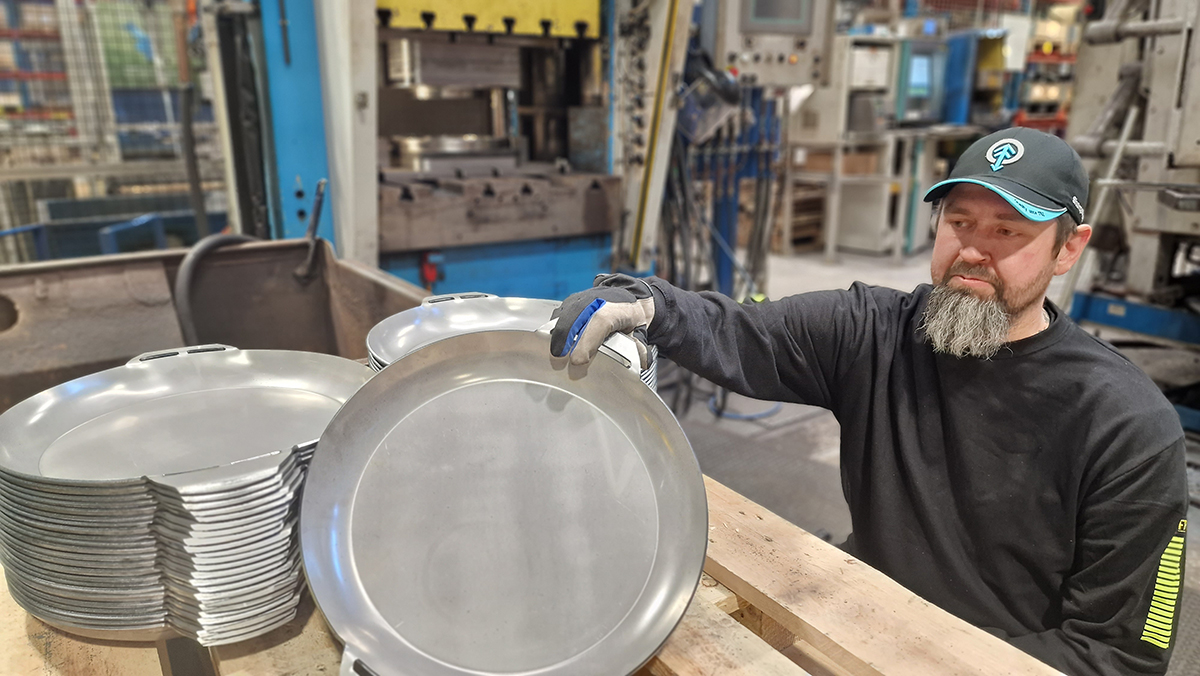 "This is a fine result for a good cause", says Anders Eriksson, Press Operator at Olofsfors AB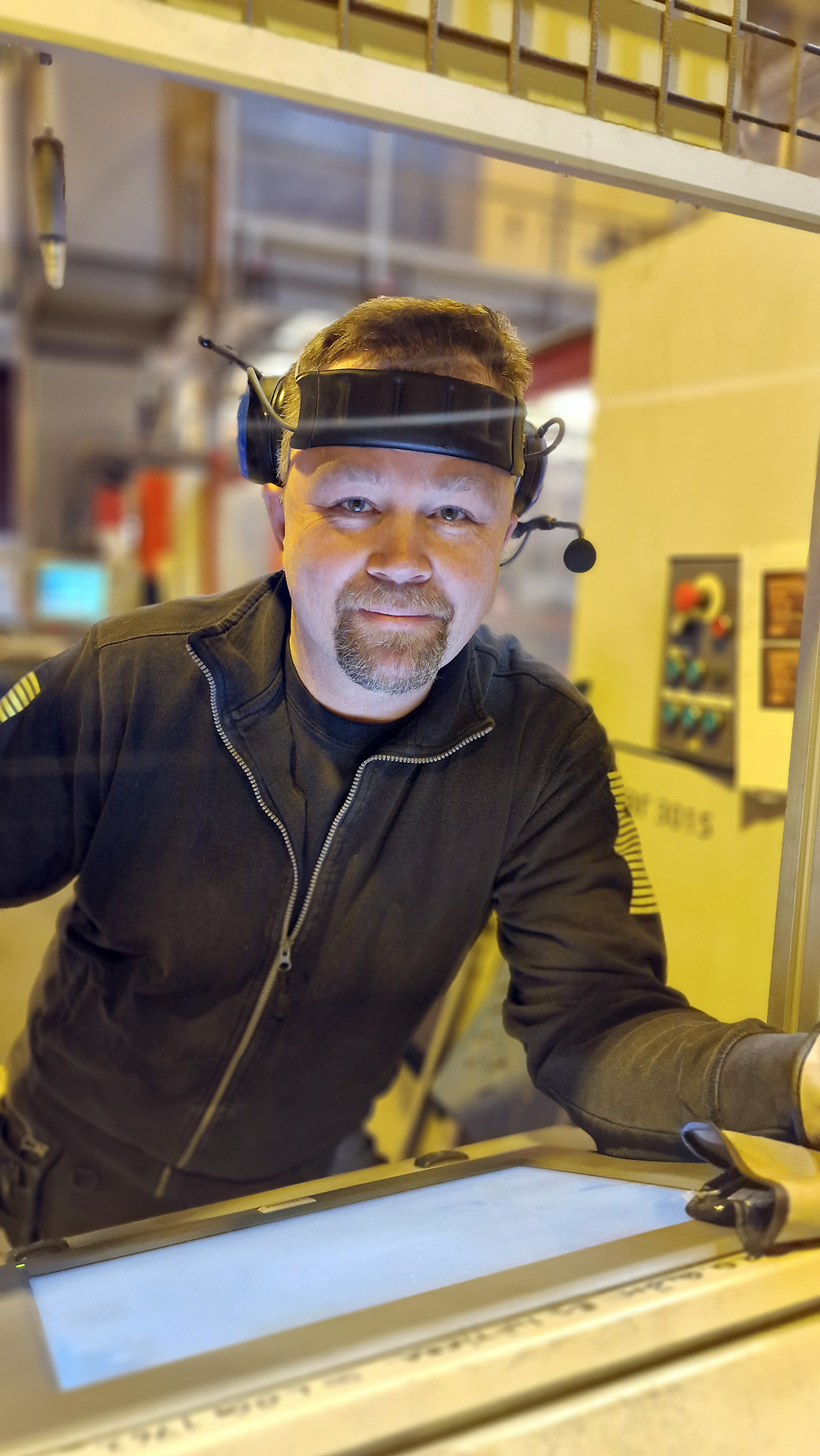 "Hope they come to good use for people in need", says Christofer de Wall, laser Operator at Olofsfors AB
"It takes more time than you think to produce the pans, but it's for a good cause and we're happy to pitch in", says Tomas Häggström, Welding Operator at Olofsfors AB
Olofsfors AB - Siège
Téléphone: +46 (0) 930-311 40
Email: info@olofsfors.se
Adresse: Olofsfors AB - Siège
Olofsfors 11
SE-914 91 Nordmaling, SE
Carte
Vous souhaitez contacter quelqu'un ?